OUR SERVICE I OUR STAFF I BANGKOK & THAILAND I PRICE I OUR GUESTS I FAQ I CONTACT & MAP I HOTEL I HOME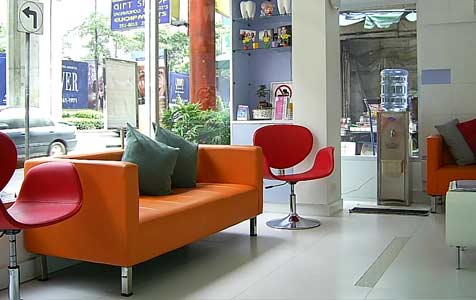 Thailand Dental, Dental Health, make your dental experience easy convenient and quality.

We are Bangkok dental health, one of the leading dental health Thailand. Make your dental experience easy and convenient at Bangkok smile dental clinic, the quality aesthetic Thailand dental health.

The doctors and staffs at Bangkok smile Thailand dental health are delighted to welcome you to our top quality dental clinic with the goal of optimum dental health for our patients through exceptional service and a commitment to excellence, Thailand dental health.

Thailand dental health, In our dental clinic, we provide high standard dental services with perfect combination of warm and friendly environment from our professional and well-trained staffs.

Thailand Dental, Bangkok smile dental clinic offers quality specialized treatments including Cosmetic Dentistry, Laser Tooth Whitening, Dental Bridge, Dental Veneer, Dental Implants and much more.With certified dentists who specialize in various fields, we are confident that our patients will always meet the utmost comfort and satisfaction.

Thailand Dental, our dentist team at bangkok smile dental health in Thailand strives to help you to maintain your dental health in a safe, comfortable, well-equipped and friendly environment. We aim to make the dental treatment as convenient as possible. Therefore, we try our best to satisfy your time available and allow you to save your valuable time.

The best esthetic dental treatment is not beyond your wish anymore. We are Bangkok smile dental health Thailand, the Thailand dental health where you can absolutely trust.
Bangkok dental
:
Bangkok dental clinic
:
Bangkok dentist
:
Bangkok dentist clinic
:
Dental Bangkok
:
Dental clinic Bangkok
:
Dental Thailand
Dental clinic Thailand
:
Dentist BKK
:
Dentist Bangkok
:
Dentist Thailand
:
Thailand dental
:
Thailand Dental clinic
:
Dentist
Laser whitening
:
Tooth whitening
:
Implant
:
Thailand dental work
:
Thailand dental health
:
Thailand dental veneer